You work at agencies and businesses and you know that ultimately, only the campaign KPIs matter. I get it.
For social media marketing, you have 2 kinds of KPI.
The first are the ones that impact your bottom-line directly like mobile app installs, conversion rates, and sales.
The second is born out of the need to be social and to build profitable relationships with your target audience to continue to make money and stay in business.

The most common metrics we use include Page Likes, Reach, and People Talking About (PTAT).
Never mind about all that - we have several arguments for and against the merits of such vanity metrics.
Today, I would like to share with you a metric that digs deeper into how successful your content strategy is. After all, content strategy is a big thing in social media marketing right?
I wrote a tutorial for this metric last December, but I was a lousy writer and I didn't do it well. Plus, Facebook revamped the data you export from Insights, so these reasons call for an update.
We all love to have users who liked, commented, or shared our posts more than just once, don't we?
We also love those passive users who click on the links we share, watch the videos we post, or view the photos we uploaded every week, don't we?
What if, I'm telling you that it is possible to know how successful your content strategy is at getting people to do all these?
What if, it is possible to do so on a weekly basis and report this data instead of vanity metrics like post likes?
Surely this metric is important to most of you since you have a content marketing strategy that regularly connects with your audience.
You want to know just how successful you are at getting people to consume all the content you post more than just a one-off interaction.
So if you are ready, read on.
Preparation: Download your Page-Level Facebook Data
To calculate this metric, you will need to download the Page-Level data from your Facebook Insights. If you don't know how to do so, see this tutorial.

Once you have downloaded the file, open it. Go to columns AV, AW, and AX. These columns tell you how many consumers you have on a daily, weekly, and monthly basis respectively.
Who is a consumer
When we refer to Facebook's definition, here's what they say:
The number of people who clicked on any of your content. Clicks that create stories are included in "Other Clicks". Stories that are created without clicking on Page content (ex, liking the Page from timeline) are not included. (Unique Users)Facebook
A mouthful, so let me break it down for you.
The first sentence is self-explanatory - any person, fan or non-fan, who clicks on any of your content is considered.
But who qualifies as a consumer?
If someone clicks on like, comment, or share, this person is counted under "Other Clicks."

If someone interacted with your Page but not with your Page content, she does not qualify as a consumer.
So… you must be dying to know all the instances when someone is qualified as a consumer.
I cannot give you a definitive answer because only Facebook can do that. But I can point out to you all the major sources that I am aware of:
1. From your Page Timeline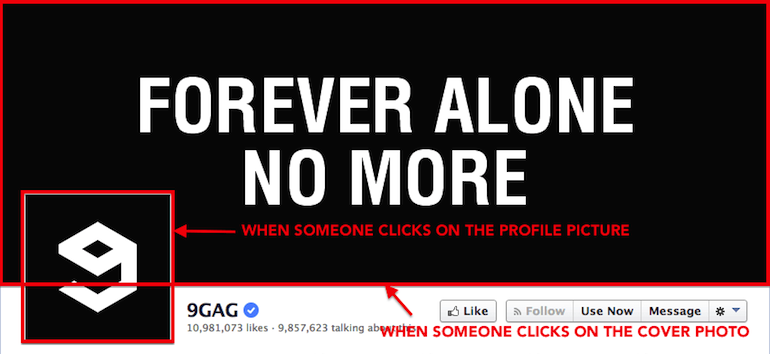 This is surprising, but when someone clicks on your Cover Photo or Display Picture, she is qualified as a consumer.
How do I know?
Well, when you click on your Cover Photo, this appears.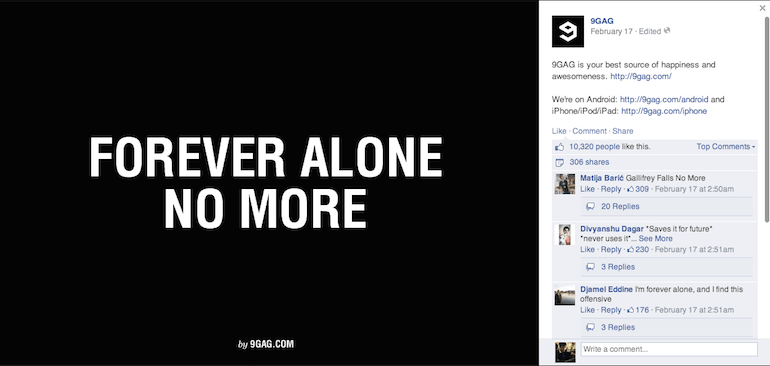 And when someone clicks on your Page Profile Picture, this appears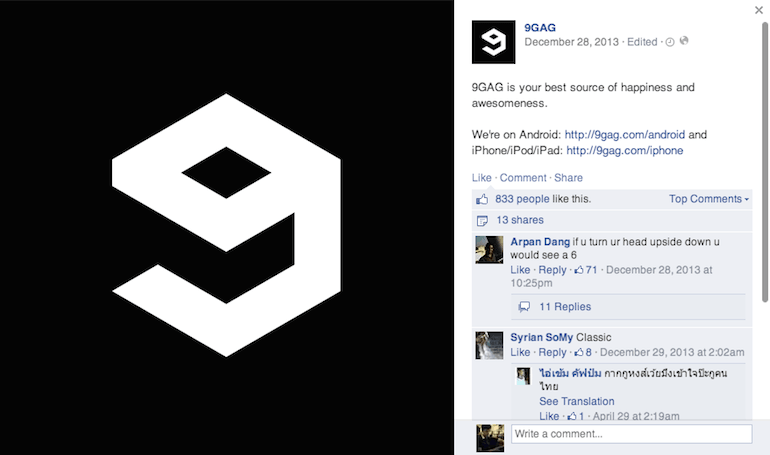 These popups that appear show you that your Cover Photo and Page Profile Picture are actually Facebook posts that you made a long time ago when you last updated them. Hence those likes, comments, and shares you see will qualify as "Other Clicks" and are considered Page Consumption.
Now we can move on to the other qualifying criteria.
2. On your Post, displayed anywhere
People who click on any of your post from, not just on, your page is considered a consumer.
These actions can happen anywhere as long as the posts are connected to your Page. These include:
Your Page Timeline
Fans' Newsfeed, including fans who are both users and Pages
Non-fans' Newsfeed, when their friends like, comment, or share your post, or you pay to promote the post to them
Other Page Timeline when they share it
Other users' Timeline when they share it
Sidebar when you promote your post
Ticker
Now, refer to the excel sheet you just downloaded again.
A crucial note here is these numbers count only each person once. For example, if a person clicked on more than one of your posts yesterday, she will be counted only as 1 consumer.
However, if a person clicked on at least one of your posts 2 days ago and she clicked on another post yesterday, she will be counted as 1 consumer on each day under Column AV, the "Daily" column. On the other hand, she will only be counted as 1 consumer under Column AW, the "Weekly" column.
If you are confused at this point, it is okay. Let's move on to the calculation that will derive the necessary figure.
Calculating this all-important metric
First, insert 2 additional columns to the right of column AV as shown below.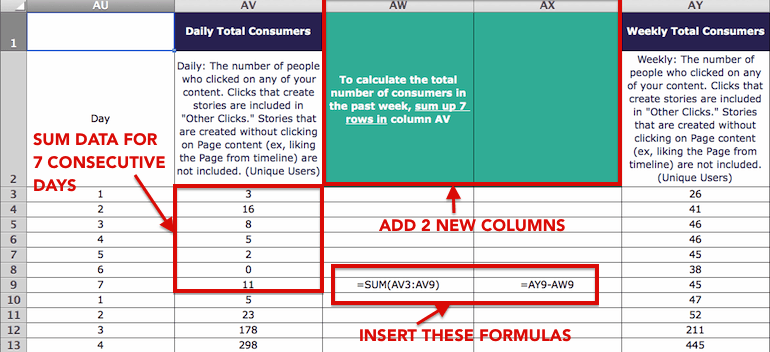 Then, insert the formulas SUM(AV3:AV9) and AY9-AW9 as shown.
The first formula sums up the total number of daily total consumers in a week. The figure you get will likely differ from the column "Weekly Total Consumers".
This is because the same person may be counted on more than one day under "Daily Total Consumers" but is counted as only one person under "Weekly Total Consumers" as I explained earlier. This means that double-counting occurs if you sum up 7 days worth of data under "Daily Total Consumers" like I did.
The second formula then tells you how many double-counted users there are. This is the number of people who consumed your post more than once in 7 days!
How useful is this metric?
What is the use of doing such intricate calculations if there was no practical value?
For the Social Media Manager or Community Manager, this figure reflects the health of your content strategy.
Just how many people go beyond a one-off interaction with your content to consume your posts more than once in a week? This metric gives you an idea of how much of your content these people love - of course, with the premise that they actually see your post.
Allow me to be more naggy here.
You see, most of your content strategies make use of multiple content categories or pillars. You make use of these pillars to achieve a good variety of content so that you can keep your fans interested.
All's good, but the kind of data you have to evaluate your content strategy is not good enough.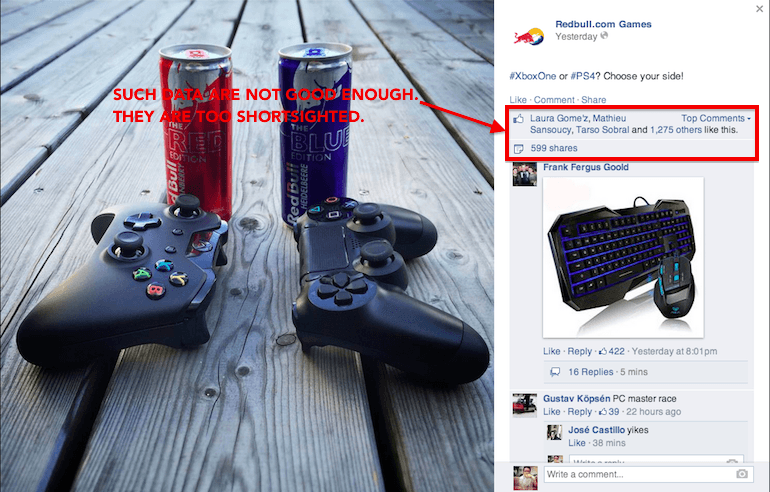 Likes, comments, and shares are not good enough metrics for you to evaluate your content strategy. It is only good when you look at individual posts' performance, but to focus on such metrics alone will be short-sighted.
How to report this metric
I would report this metric on a weekly basis. Here's what I would do: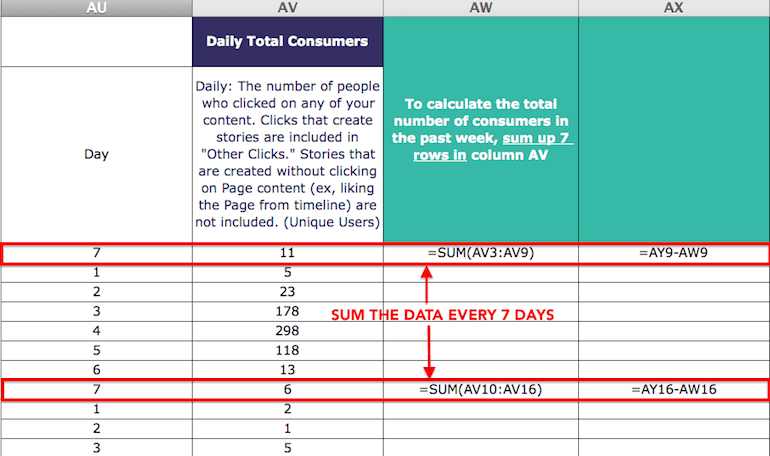 Also, the raw number of people who consume your content more than once in 7 days might not be very meaningful.
In that case, you might want to divide this number by the total number of users reached in the week (Column H) or the total number of consumers in the week (Column AW).
So that's it from me, now I want to hear from you.
Do you think this metric is helpful in evaluating your content strategy? Will it be of more value to your business than the raw number of likes, comments, shares as well as engagement rates?