Tutorial: How to Download Data from Facebook Insights
This is a simple 4-step tutorial on how you can download data from Facebook Insights. Feel free to bookmark this page - and I will update this tutorial when Facebook changes its system.
Updated as of 7th June 2014 to reflect the new Page Layout.
Step 1

Go to Facebook Insights, and click on "Export Data" on the top right corner.
Step 2

When you see the small box above pop up, select a date range for the data you want to download. I usually download in periods of 1, 3, and 6 months to analyse the data.
Step 3
Make sure that you select "New" and not "Old". The "Old" Facebook Insights has limited use.
Step 4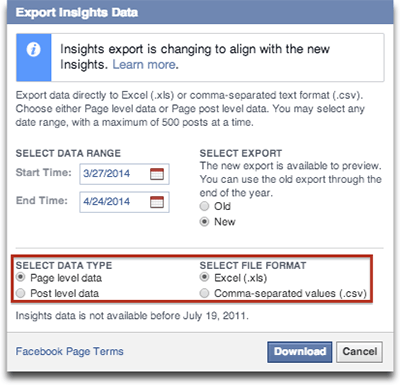 Choose whether you want the Page & Post-level export. You can download the other type when you carry out steps 1 to 4 again.
Choose .xls for to open it as an excel spreadsheet - I've found problems with .csv format when I save the file.
Now you can click on the download button on the bottom right!
That's it, now you have downloaded your Facebook Insights data!