Last week, I shared how businesses can improve their targeting and understand their audiences better using Facebook Audience Insights (FAI).
But I left out 2 incredible sets of data that FAI also includes – and I shall share them with you today.
The two large sets of data are:
Household
Under this tab, you'll see 5 subsets of data:
Household income
Home ownership
Household size
Home market value
Spending methods
These datasets are amazing for businesses – there is a variety of use of these depending on what kind of business you run.
But I'll focus on just "Household Income" and "Spending Methods".
Household income
Household income, the data you'd normally wait for the national statistics board to release, is now readily in your hands.
Previously, you might take a blind shot and define your target audience based on your hunch of what they are earning.
For instance, Burberry customers might be earning at least $50,000 a year. With this information, Burberry can do a few things:
Use this information and decide if they should adjust their marketing programs to target this group of people
Check against existing customers' background (most likely using a CRM tool), and find out if their Facebook page has attracted the wrong kind of fans. They could decide to adjust or ignore; because huge businesses may want to also target the other income brackets for other product lines
Improve ad targeting; more conversion-related ads can be targeted at this group of fans to focus their marketing dollars and maximise ROI
Furthermore, you can also see key trends in the household income depending on certain attributes.

For instance, I selected an audience from US age 40 to 50. The interactive graph shows me the relative household income of my selected audience against that of Facebook.
The percentage figures you see below each bar tell you "how likely your selected audience is in this group compared to Facebook users."
Note that instead of comparing your selected audience against that of Facebook, you can compare that against ANY page you're managing, or any custom audience you've created. This is huge!
Spending methods
Perhaps the most surprising set of data I've seen on FAI, this shows you broad category ways that your selected audiences spend. (Wow!)
Before you get all too excited over this, there is no guarantee how accurate this set of data is, given that it's a combination of "survey responses and estimates using purchase activity, occupation, and census data".

Again, the interactive graph compares your selected audience against that of Facebook.
These are the major categories included:
All cards
Bank card
Travel & entertainment
Gas/store
Upscale departmental store
Premium
Primarily cash
Primarily credit card
The last two categories show how your selected audiences pay for their purchases and they should help you decide your mode of payments, especially if you're running an online business.
For instance, if 90% of your selected audiences pay primarily by cash, you might want to reconsider whether you should conduct your transactions with them online or offer cash-upon-delivery services.
Purchase

This brings me to the last (and most exciting) tab of Facebook Audience Insights.
This tab has 4 sets of data:
Retail spending
Online purchases
Purchase behavior
In market for a vehicle
Do not confuse this tab with what we mentioned earlier about spending methods under "Household Income".
This tab shows you data on "what" and "how much" your selected audiences buy certain things.
Retail spending and Online purchases

The "Retail spending" data set shows you how many percent of your audience's household income is spent on retail.
Not very useful at this moment because the partner only categories them into 2 general groups, "Low" and "High".
The same goes to "Online purchases". (What a bummer)
Purchase behaviour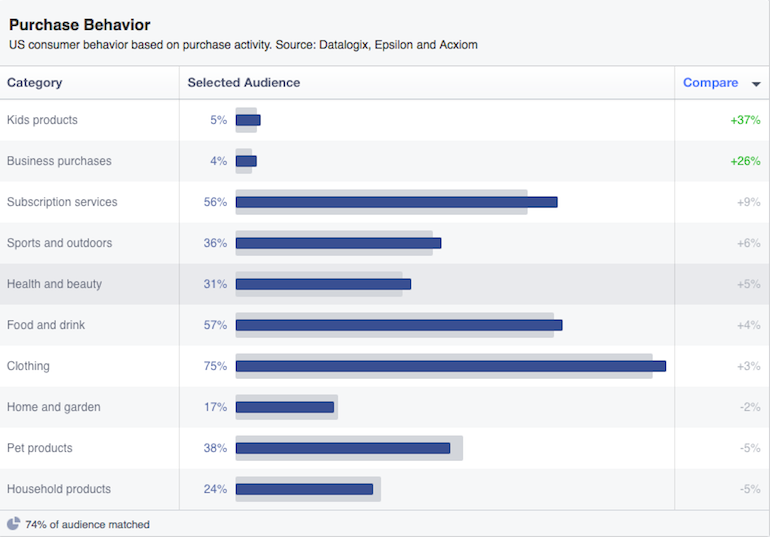 Let's look at something more interesting.
As the name suggests, this set of data zooms in on what your selected audiences are buying. And the data is combined from 3 data-mining companies: Datalogix, Epsilon, and Acxiom.
For my earlier selected US audience between age 40 and 50, they are 37% more likely to spend on kids products and 26% more likely to make business-related purchases than the entire group of Facebook users.
If I were you, this would be the second most important targeting option I would use, behind your custom audience of existing customers and leads.
With such a powerful tool in your hands, you could fiddle with multiple targeting options before running your ads!
You no longer need to come up with a list of 10 to 15 kinds of targeting and test them using real dollars before cutting them out.
Don't get me wrong – testing is still important. But you can now use Facebook Audience Insights as a first-cut, to cut those targeting options that are (now) obviously outside of your target audience.
In market for a vehicle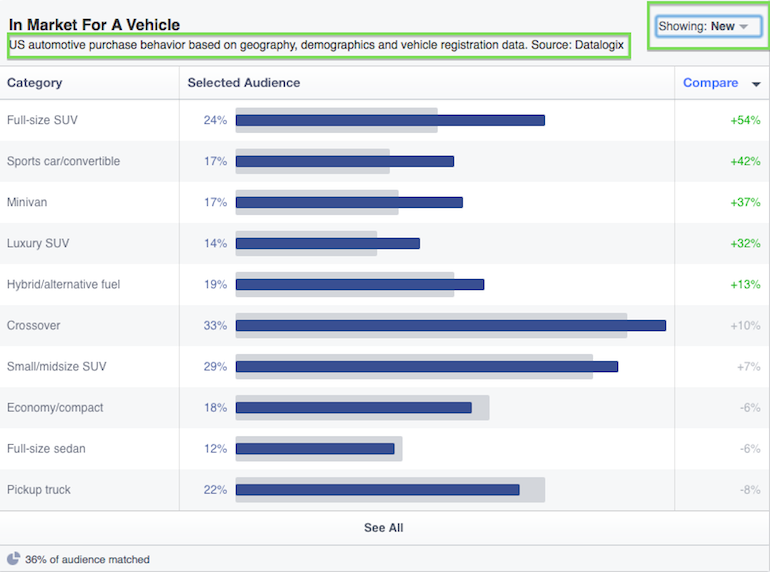 Finally, we're onto the last data set in Facebook Audience insights.
To round-up these 2 parts of tour, I'll use this dataset to show how you can use FAI.
Mini-tutorial for car companies to use the dataset "In market for a vehicle"
The first thing to do is to recognise that this set of data is based on geography, demographics, and vehicle registration data.
In other words, this is not a dataset based on surveys and what your selected audiences said about buying a new vehicle.
Instead, it's based on indicative measures of vehicle demand.
For instance, if a vehicle is 10 years old, its registered owner will be detailed on Facebook as in the "replacement car market".
Depending on what kind of vehicle it is, its registered owner will be classified under the same vehicle group, such as Full-Size SUV.
By now, you'd probably expect that it is inaccurate to some degree, not in the data collection sense, but in its predictive value of the car that the Facebook user would buy. And you're right.
But we've long worked around such imperfections, so let's go re-focus our attention on how we can use this dataset.

Assume that I am a new vehicle retailer and I sell imported minivans.
The next thing to do is to choose the "New" vehicle market, because this dataset offers two subsets of data, one for the "New" vehicle market and one for the "Old". (You can skip this step for most datasets because they offer only one set of data)

Then, I'll click on "Compare" to sort the data.

Finally, I will check the interactive graph.
Based on the screenshot above, I find that only 14% of my selected audience is in the new vehicle market for a minivan.
I can do better than this and change my targeting. Perhaps I could change the age group or go deeper to include relevant interests like "minivans" or well-known brands that carry minivans, such as Chrysler.
Aside from looking at just how many percent of your selected audience is in the new vehicle market, you should also take note of the far right column: are your selected audiences more likely to buy minivan than Facebook users in general (or any other targeting group which you specified)?

After you're satisfied with your selected audience, don't forget to save it! (Double emphasis!)
Your Turn
We've now come to the end of a 2-parter Facebook Audience Insights tour! Now it's time for you to get your hands dirty and try it for yourself.
If you have any questions, feel free to ask me in the comments below. Suggestions are also welcomed!