Note: This is not an affiliated post.
I've been using Agorapulse to manage my clients' and my Facebook page for close to nine months now and there are some features that I just cannot live without.
Since majority of my clients are either small or medium businesses, some of you might find relatable experiences in managing your Facebook page. At any point in time if you decide to give Agorapulse a try, head over here (non-affiliated link) and sign up for an account.
Before we begin, let me reiterate that this guide is not sponsored by anyone related to Agorapulse.
What is Agorapulse?
Agorapulse is a customer relationship management (CRM) tool for Facebook and more recently - Twitter. I don't know of a better way to put it.
Agorapulse is neither a social media content curation tool like Beatrix nor a scheduling tool like Buffer.
To me, Agorapulse is like a social media management tool built specially for small businesses to manage their social media presence. When people ask me for a sentence-long review, I'd always tell them that Agorapulse provides value for money. That is because small businesses can't afford to spend on a variety of specialized tools and Agorapulse solves that by becoming the all-in-one solution.
How is Agorapulse a value for money option for small businesses?
As with most social media apps nowadays, you'll find an overwhelming list of features that Agorapulse offers. In fact, Agorapulse categories these features into four main categories:
And these are the features I love most:
Schedule & publish your post
View all your scheduled and past posts on a calendar
Set up Facebook apps that help to grow your page
Access to informative that help you improve your Facebook posts
1. Schedule and publish your post
What do most page owners do with their page? You probably guessed it – posting on your page!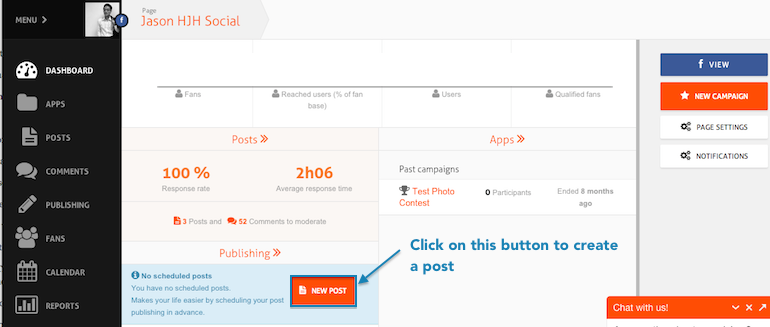 Posting on your page using Agorapulse is simple. Once you have logged into Agorapulse, you just need to click on "New Post".
Creating a Facebook post using Agorapulse is just like doing so on Facebook. The only difference is that you cannot tag another page using 3rd party apps, whether it is Agorapulse, Buffer, Hootsuite or another social media publishing tool.
I like to use Agorapulse's scheduling tool because I don't want to toggle between Facebook and Agorapulse while I'm managing other aspects of my page using the tool. Besides, I don't usually tag other pages in my Facebook posts so I don't find the inability to tag another page a big problem.
2. View all your scheduled and past posts on a calendar
Having scheduled your content for the next week and written a whole bunch of content for the past few weeks, what do you do?
Do you fire and forget?
One unparalleled advantage of using Agorapulse over posting on Facebook is the ability to see all your content inside one calendar.
Coschedule does it ever so well for blogs and I believe that Agorapulse is a lookalike when it comes to your Facebook page.
Whether you are a community manager, social media manager, or small business owner handling your own page, you will feel overwhelmed by all the content you're posting on Facebook after some time.
For this reason, I love Agorapulse's Facebook posts calendar for two things:
It shows me whether I have been posting consistently for the past few weeks or even months
It assures me that I have properly scheduled a post on Facebook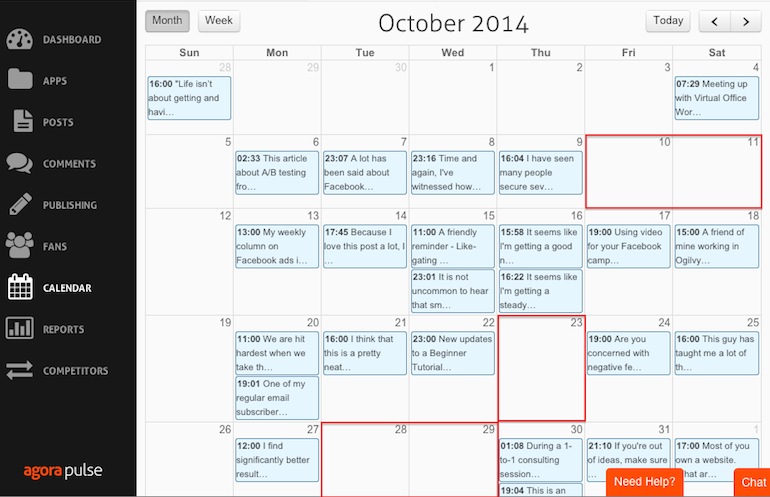 When I look back at my Facebook posts last month, I see inconsistencies in the way I posted. That prompts me to look back and find out what happened – whether the scheduler failed to publish my post or whether I lapsed in my posting routine.
In your case, you might use this to look back at when you forgot to post. If you hire someone to post to your Facebook page on your behalf, you can also find out when he or she failed to post on time as well.
Consistency in posting is also one of many important practices in social media marketing for most businesses. In many ways, it is also similar to blogging. When you relax on your schedule and start to post more frequently, you will experience less traffic to your website and Facebook page, and you will find that it can take three times the amount of time to recover the traffic you lose.
I regard good and valuable content as an altruistic mean of adding value to your readers. This helps to drive engagement and build trust between you and your fans. Consistently posting such useful content thus becomes a responsibility and that explains why I like to have a calendar view of my Facebook posts.
Next, since I schedule my posts to Facebook on a weekly basis, I can look into my calendar once I have scheduled all my posts to ensure that I do not lapse.
If you use only the Facebook native scheduler like I have always done, you might it difficult to track which days you have scheduled your content and which days you haven't. This has been my number one reason for not posting consistently.
With the calendar, it is easy to crosscheck at the start of every week to make sure that all the posts have been scheduled.
3. Access to to improve your Facebook posts
Under the reports section, Agorapulse makes it easy for you to understand your Page health.
The report section is divided into eight parts:
Page audience
Timeline activity
Fan growth
Moderation
Total page reach
Average post performance
Demographics
Recommendations
Each part of the report is visualized in some kind of graph and is easily digestible. But what I find most interesting and useful is the last part – recommendations.
Ever heard of all the talk about when is the best day and time to post? And ever read all the infographics on what type of posts does best?
The truth is, which I've repeated like a broken record, all these best practices depend on your page.
And that is what I love about these recommendations – Agorapulse does all the work for you and tells you when is the best day and time to post as well as what type of posts.
Look at the screenshots below.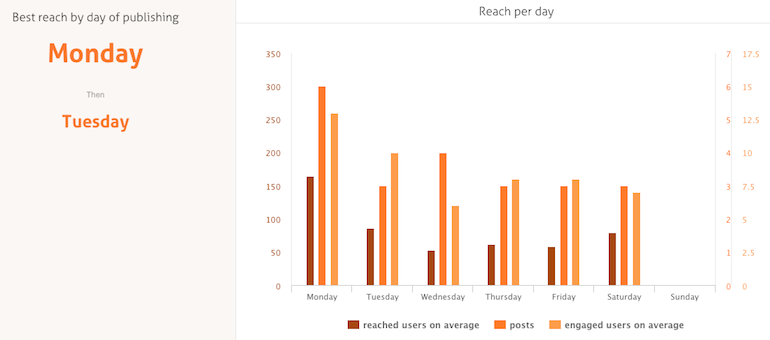 Agorapulse tells you which days you attained the highest reach.
They also tell you what time you reached the most number of people.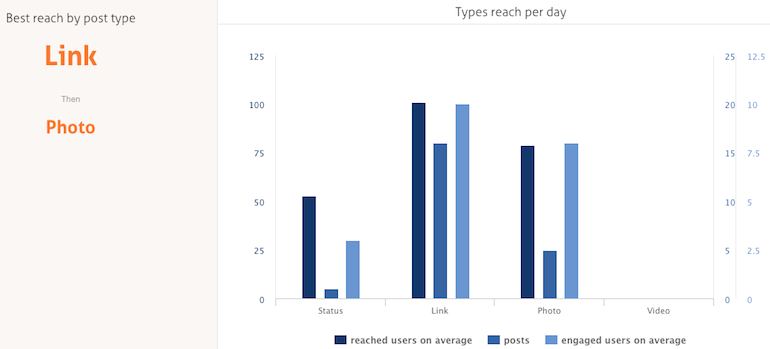 They even tell you which of your post type did best.
Of course, you can also find all the above data in Facebook Insights. But time is precious and small business owners like you can't afford to spend hours a week looking at your Facebook Insights to figure out what works – that explains why this is such a handy tool.
If you post once a day, you should review these recommendations once a month to make changes to your content publishing schedule. Embark on this routine consistently over a few months and shave hours off managing your Facebook page!
4. Set up apps that help to grow your page
Facebook apps seem to have fallen out of favour with Facebook and businesses alike.
But I still found several recent successes with consistent and careful use of Facebook apps to achieve specific marketing objectives, such as attracting relevant eyeballs to a page, generating targeted leads, and preparing communities for product and service launches.
For example, one of my new clients (a local startup) recently started a fan page and attracted over 500 fans in three weeks. She targets a very niche audience and made use of three sweepstakes to attract these highly relevant fans. The cost per fan acquisition currently stands at $0.19, a feat considering that page like ads in most industries are reportedly on the rise.
If you're familiar with Facebook apps, you'd probably know that most app providers are highly specialized in their offering and charge either on a subscription basis or per app. You have no choice but to set aside a sizeable portion of a limited budget to creating and maintaining these apps alone.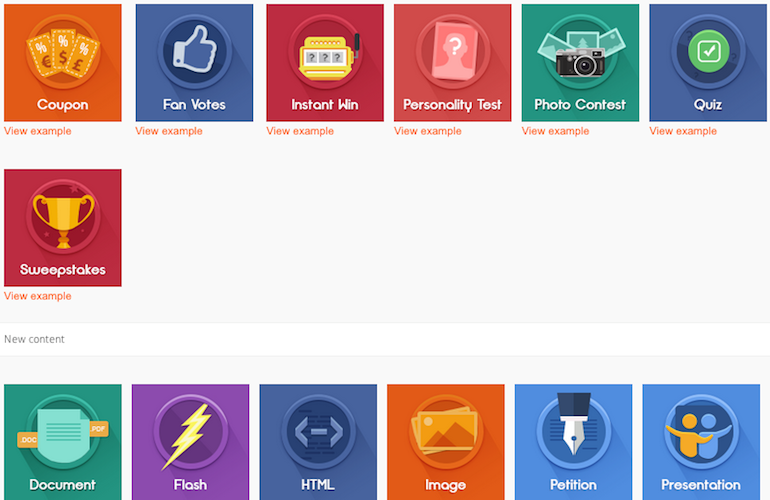 However, Agorapulse offers a pretty comprehensive suite of apps for standard campaigns, such as sweepstakes, fan votes, and photo contests. There is even a free timeline contest app for all page admins, whether you are an existing customer of Agorapulse or not. Hence, you don't need to spend a cent to run standard campaigns that still work in driving your marketing goals.
Conclusion
Managing your Facebook page with Agorapulse is simple whether you have a new or existing page.
My take is, if you find yourself spending a lot of time managing your Facebook page, it's time to find another solution because managing your Facebook page alone is not going to pay most of your bills, not when you just started anyway.
If you know of another tool that is affordable and useful for small business owners, go ahead and share the link below - but please do not post affiliate links or promote your own tool.