Do you want to know how experts will use Facebook ads in 2015?
In 2014, Facebook ads became an indispensable tool in most marketers' toolbox, no thanks to a collapse in organic reach.
But the technical aspect of Facebook advertising can be overwhelming sometimes, even to industry practitioners who use it often.
To help you navigate the dense forest of ads and improve Facebook ads, I reached out to 11 Facebook ads pros and asked for their top tips in 2015.
Vote for your top tip(s)
Before we begin, let's do a little something different this time.
I want you to vote for your favourite tips (up to 3) in the comments below.
You don't have to explain why, although it'd be good that you do. In return, I will do my best to invite the top experts back to share their knowledge one day.
Ready to find some forward-looking, practical, and actionable tips to improve Facebook ads? Here are their top tips.
1. The key to great conversions is to put the words in other people's mouths
The top social marketers realise that the best sellers never come off as outright selling. Ironically, the key to great conversions is to put the words in other people's mouths. Sponsored Stories used to do this for us, but here are the alternates, which are more effective in 2015.
Promote posts that others have made about you. Yes, send people to someone else's website, especially if they are high trust. Run workplace targets and custom audiences to amplify this.
Use GSP (gmail sponsored placements) to magnify where you are already doing Facebook retargeting (WCA).
Finally, find partners who will cross promote with you, so it's neither of you taking about yourselves. Who are your partners and who have you not thought of yet to partner with?"
Dennis is an author at InsideFacebook, AllFacebook, SocialFresh, and TechCrunch.  Got any questions for him? Email [email protected].
2. Focus on designing better Audiences
Most people focus on beautiful creative and effective copy but don't invest enough time working on the Audience. You should look at all the different possibilities or steps in your sales funnel to design better and smarter audiences.
One simple product could have many opportunities for ads, you can target people that visited the product page but left, another one for people that didn't complete the transaction and another one for people that did. Design these audiences outside of Facebook and then import them periodically.
Another way is to use the segmentation you already have in place in your email service provider. If you have segments of people that have purchase specific products or have shown different interests. Combining email and Facebook could be very powerful.
Francisco Rosales is the founder and author of SocialMouths.
3. Do your split testing to find out what works best
The most important thing to keep in mind with Facebook ads is to do your split testing to find out what works best.
Many businesses just run one or two ads and they don't get the results they were looking for and so they assume Facebook Ads don't work for them. Sometimes it takes testing several different target audiences or several different images before you find the one that performs best. Even different ad types can yield different results - website conversion vs. an unpublished post for example.
So do your testing and keep changing things up until you find what works best for you.
Andrea Vahl is co-author of Facebook Marketing All-in-One for Dummies and also uses her improv comedy skills to blog as Grandma Mary, Social Media Edutainer.
4. Start slow and build up. Try a boost post first. Always be relevant
3 tips and tricks for massive results!
1. Start slow and build up
You want to think long term with your ads – you're not planning to blow your budget within a few days, after all! Scale up frequency and spend gradually over time, evaluating performance at every stage as you go.
2. Try a boost post first
If you're not sure whether an ad is going to cut it or not, try it out as a boost post on your fan page.
This is a great way of testing the waters before you start uploading ads. Once a boost post gets the all clear, you'll have a clear idea of whether or not your ad is going to get approved.
3. Always be relevant.
You can never underestimate how important this is. Remember that Facebook is taking user feedback really seriously – so you should too.
Making sure that your ads and landing page are relevant to what the user wants to see, and are congruent with each other, along with delivering great content, means a lower bounce rate.
Which means that your ads are better served. Bingo!
In short, cut out click-baiting and work on offering users great stories that they really want to see.
Liz Azyan is a professional social media strategist helping small businesses PLAY and THINK BIG.
5. Consider outsourcing your ad management
If you are inexperienced with Facebook ads, and don't have the time or interest to invest to take a training course in order to get the best results for your business, consider outsourcing your ad management to an experienced professional - there are many of us out there! Professional ad management is effective and a very worthwhile investment if you are looking for proven, cost effective results!
Vanessa Lewis, Director of Social Catapult based in the UK, specialises in Facebook marketing and advertising. Vanessa has years of experience in the full management of Facebook pages and has created many very successful advertising campaigns for a wide variety of clients.
6. Video is the new black
My top tip for Facebook advertisers in 2015 is to consider the use of video.
Plenty of data exists to support that video outperforms other types of content in terms of engagement but many companies still aren't using it. Why?
Generally the answer I hear is because they don't have video content and they feel that producing video is too complex and costly. The reality is that today there are a variety of solutions to fit almost any budget.
If you're a small or medium business, creating a basic 30 second profile video for your company provides an asset that can be used as both a video ad as well as on your website to improve SEO.
Ben Pickering, President of SoMedia Networks.
He is a digital and social media veteran, having worked with everyone from small business owners to Fortune 500 companies to develop and execute digital strategies. Ben has been featured in publications such as Mashable, Huffington Post and Social Media Examiner and as a speaker at events including the AllFacebook Marketing Conference and ReelSEO Video Summit.
7. Create specific Facebook-only offers
In 2014 we saw great successes for local businesses using the offer feature on Facebook. The problem for most businesses however, was they found it hard to track conversion rates of these ads. Unlike online sales, you cannot set up conversion tracking where people are claiming a special offer in a local store.
My top tips for local businesses who want to use the feature in 2015 are
Ask your fans and customers what offers they would like to receive
Create specific Facebook-only offers
Include a whisper code or ask them to take a particular action when claiming the offer and track it manually
Run your offer for a limited time only
Create a Facebook ad to promote your offer to fans and their fans
I generally advise brands to promote to your fans only. However for local businesses with limited audience reach, I find that promoting to friends has attracted new fans and customers.
I would also advise local business owners to focus on continually building their audience. Use a combination of like ads to target:
Your Customer list
People in your locality
People in your locality with particular interests
People who in your locality who like your competition on Facebook
Use local awareness ads - although you may not have this feature yet
Facebook ads in 2015 are a necessity for local business owners, and even if you have a small budget you can now reach thousands of new prospects every week with Facebook ads.
This was a Facebook offer we created for a local salon and promoted to fans and their friends. The combination of services was only available on Facebook and the claimants had to quote Facebook when making a booking. The Facebook ad budget was €20 and 29 offers were claimed with a conversion rate of 15 offers actually redeemed. For a spend of €20, the salon generated €1053 in additional sales, 52.65x in ROI.
Jenny Brennan is passionate about Social Media and Facebook Marketing in particular! She makes it her mission to show her clients how to connect with customers in a meaningful way that will build long term trust and loyalty.
8. Native video posts become a killer marketing tool
"We're committed to making Facebook the best place to share, discover and watch videos", revealed Facebook in September 2014, and we can clearly see they are delivering on this - barely visible a year ago, Facebook native videos exploded in 2014. According to SocialBakers, they're becoming so popular that should be now surpassing the number of YouTube videos shared on the network.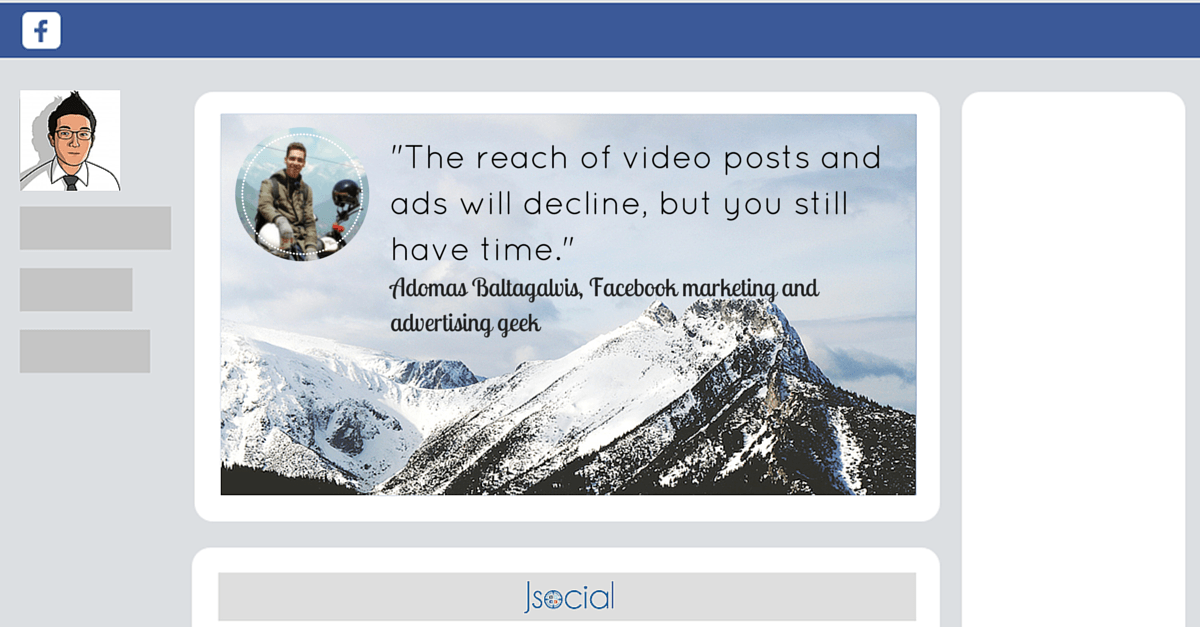 The auto-play feature, the count of video views, which stands as an incredibly powerful social proof, call-to-action buttons and improved … - all of it makes native video posts a killer marketing tool. YouTube videos, on the other hand, became a second-hand material: very often they don't play directly in the news feed and look terrible on mobile, especially when promoted - even videos from Instagram are winning on this, if not the 15s video length constraint.
The competition will only intensify in 2015, so I don't think it will take long before marketers will ruin the users' experience with a videos overload. It's crucial that you incorporate videos into your communication strategy nonetheless - tell your brand's story, share behind the scenes videos, promote any special offers by uploading a video directly to Facebook or Instagram, in order to create a multi-sensory experience and form a deeper relationship with your followers.
Adomas Baltagalvis is a Facebook marketing and advertising geek that helps clients around the globe to nail Facebook ads and achieve their business goals. You can learn more about him and read his thoughts on social media marketing on www.AdomasBaltagalvis.com.
9. Add a conversion pixel to track conversions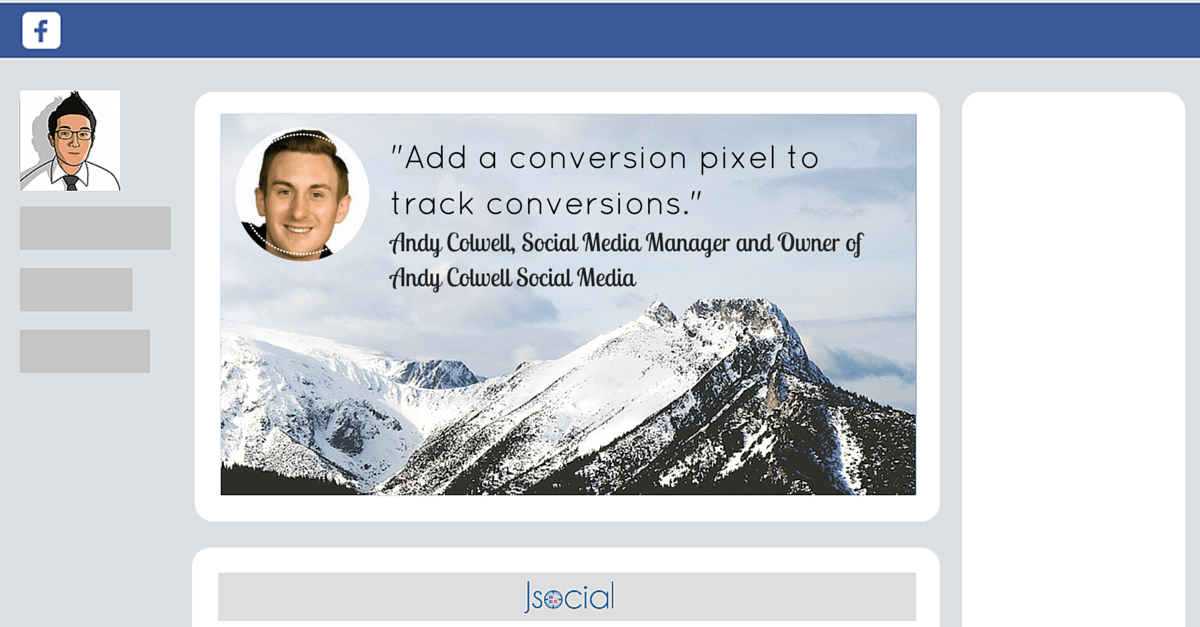 Add a Conversion Pixel to track conversions If you are sending Facebook ads to an opt-in page to gain leads, always ensure that you have included a conversion pixel in the "Thank You" page. The conversion pixel will track how well the Facebook ads are converting for you.
To get the Conversion pixel:
Go to Facebook Ads Manager
Click on Conversion Tracking on the left sidebar
Then click the green button in the top right corner that says "Create Pixel"
A popup box will appear that asks you to name the pixel and choose the category.
Once you click "Create Pixel", another popup box appears with the code.
Copy and paste this code into your "Thank You" web page.
Andy Colwell is a Social Media Manager and Owner of Andy Colwell Social Media.
10. Facebook ads testing will become the norm for all advertisers, big and small, in 2015
After creating thousands of ads over the past 4+ years, I can say one thing for certain…Facebook ads require patience, persistence, and lots and lots of testing!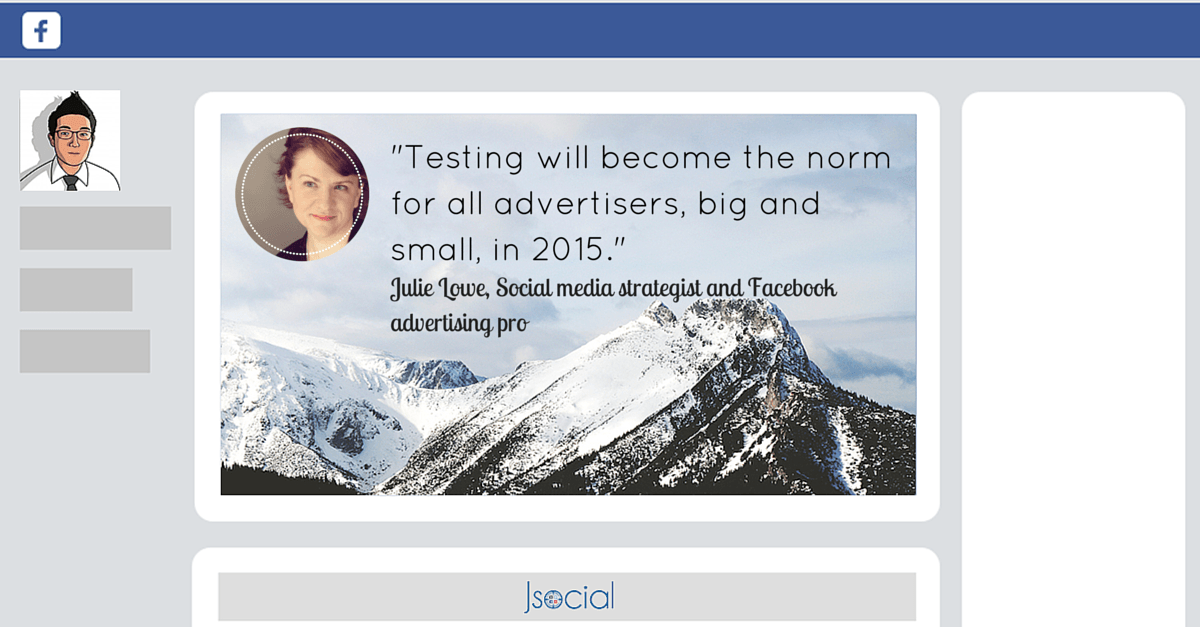 Testing has always been important, but was often reserved for more advanced marketers. Most businesses didn't bother with extensive testing, and in many ways, it was barely needed. Facebook advertising wasn't nearly as competitive, even just a year ago, as it is today.
In the past, most industry experts would advise you to combine all of your interests together, aim for an audience size between 250,000 to 1 Million, and call it a day. Testing focused mainly on ad copy and images. If your targeting didn't seem to be working, you would change up the interests, but extensive audience testing was rarely mentioned.
In 2015, I believe that thorough testing needs to become the norm for all Facebook advertisers. Not just big businesses, but solopreneurs and small businesses as well.
But where to start? Testing often seems daunting to non-marketers. (As if Power Editor wasn't complicated enough to master, now you have to put your geek hat on and do a bunch of testing too!?)
Testing really doesn't have to be complicated though, and Facebook provides a lot of free tools to help you find your ideal audience. Start by using Graph Search and Audience Insights to find pages and interests in your niche to target with your ads. (Graph Search is simply the search bar on Facebook, and Audience Insights can be found in the Ads Manager.)
Once you have a list of potential audiences to target, start testing them one by one, each interest in their own ad set, rather than targeting multiple interests at once. If you glom them altogether, you'll never know which interests are failing and which are bringing you a great return on investment.
Pause the losers and analyze the ad sets that are doing well to see how you can improve them further. Advanced ad reports will show you which demographics, countries, and placements are converting the best for you.
And very importantly, make sure you're focusing on the metrics that matter, and not just "vanity" metrics such as clicks. Hint: clicks means any click on the ad. Be sure to look for "link clicks" and also track for conversions. Link clicks are great, but if the goal of the ad is a sign up or sale, all the clicks in the world won't matter if you're not converting that traffic.
Testing should be the theme of the year for all Facebook advertisers, and I think everyone will be happier with the results they see moving forward.
Julie Lowe is a social media strategist, Facebook advertising pro, and the founder of Socially Aligned. Learn about Julie's Power Editor Master Class and 1-on-1 sessions at www.SociallyAligned.com.
11. Run a cross-channel remarketing campaign on Facebook
72% of all adults that are online at least once a month also use Facebook at least once a month and the social media giant does its best to make advertisement more effective. Notice I didn't say cheaper, so let's look at the number one way to outsmart Mr. Zuckerberg: Cross-Channel Remarketing.
Remarketing campaigns target website visitors who didn't convert again with the same platform. Yes, you can be more specific than that by setting a minimum visit duration and more with Google but this is the basic concept. Remarketing is known and something any advertiser should be familiar with but cross-channel remarketing has not had its breakthrough – yet.
Cross-channel remarketing refers to the idea of driving traffic with one platform, like Google AdWords for instance, and setting up a remarketing campaign on a different platform, like Facebook, to target the same users again in a different way and environment.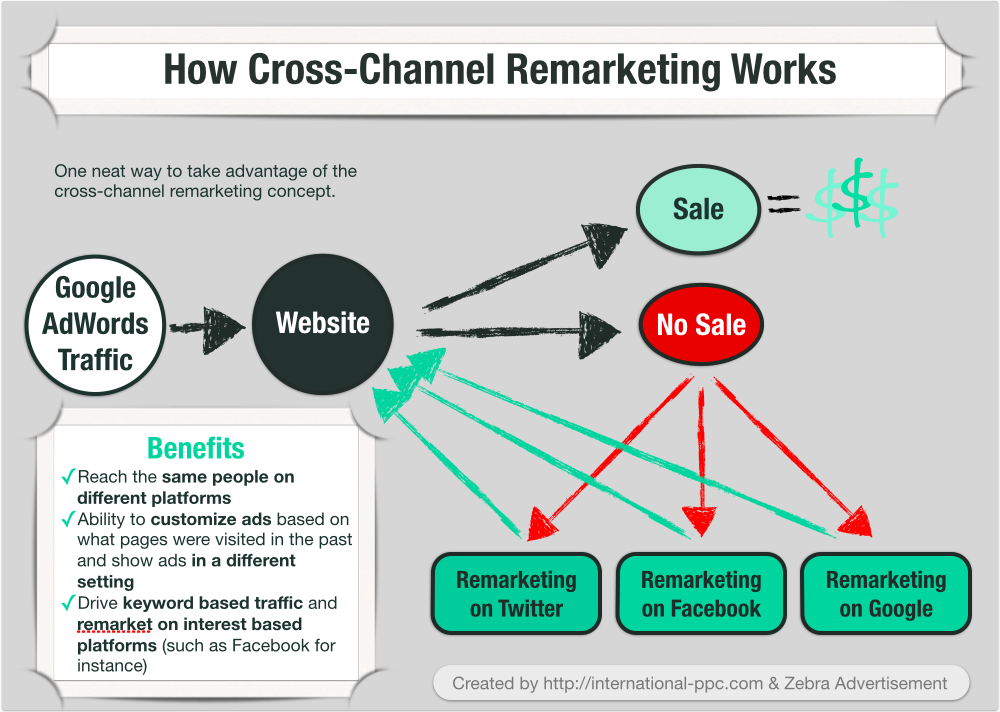 The advantage of setting up a Facebook remarketing campaign that is integrated with Google AdWords is that you can drive keyword based traffic with Google and then target the same people on Facebook which they associate with family, friends, and other positive things. Additionally, you can show them content that is based on the pages they visited instead of just generally throwing an all-purpose remarketing ad at them that – let's not forget – already didn't work the first time around.
If you have tried Facebook in the past and didn't get results, try it again now since the new call-to-action button they launched increased the click-through-rate by 2.85 times. If your costs and conversion rate are the same, you might have a winner right there!
Rocco Baldassarre is the Founder and CEO of 1DollarAd.com, International-PPC.com and Zebra Advertisement, a leading advertising agency and Google Partners All-Stars Winner 2014. He consults companies regarding online advertising strategies with Google AdWords, Facebook, Twitter, LinkedIn and cross-channel advertising among other things.
Conclusion
I hope you liked all the responses I gathered from these 11 pros!
Which were your favourite tips to improve Facebook ads in 2015? Vote for them in the comments below and I'll do my best to invite them back again to share their knowledge.