Are you satisfied with your social media management tool?
There're plenty of tools out there and it's hard to choose the right one.
On one hand, you have specialised tools like Buffer and Postplanner for publishing, FanPageKarma for , and Tweetdeck for Twitter management. That's just less than 1% of the total number of tools out there!
On the other hand, you have social media management "platforms" that aim to address all the needs of social media consultants and managers.
Whenever you ask someone about social media management platforms, the only two tools that come up are Hootsuite and Sprout Social. But these tools, although great in their own way, don't fit everyone's bill.
But it also seems like there aren't many suitable alternatives out there, so what can you do?
Enter Agorapulse.
Initially developed as a popular tool for Facebook app creators, Agorapulse has since transformed into a social media management beast.
In fact, I'd put it in the same consideration set as both Hootsuite and Sprout Social when it comes to picking a complete social media management tool.
In this article, I will compare both Sprout Social and Agorapulse on 8 things, and you can decide which tool works best for you!
Agorapulse VS Sprout Social: Which is the better social media management tool for you?
1. Account management style
Both platforms cater to social media managers with very distinct working styles that it would be unfair to rate them on this point.
In fact, the people who hate Sprout Social's smart inbox will love Agorapulse for the very same reason and vice versa.
Sprout Social
On Sprout Social, you will have a single, filterable inbox. This means that everything is in one place - your Facebook updates, private and direct messages, tweets, replies and more.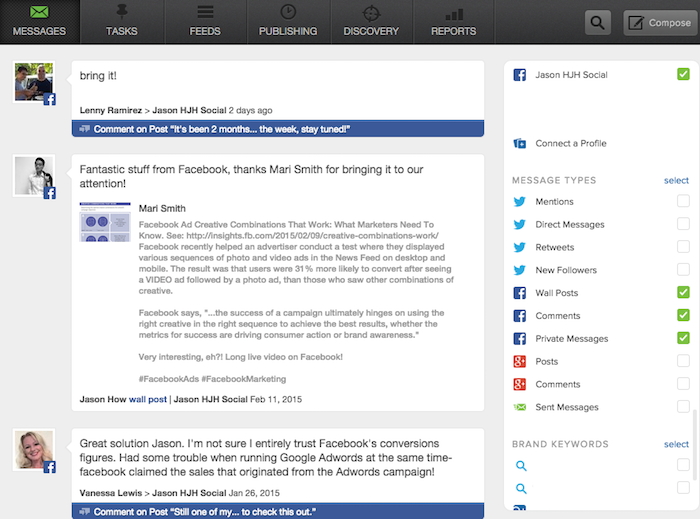 The biggest advantage of this is that it saves you time from switching to a different account. But therein lies the risk of mistaken identities - replying on a wrong account or message.
Agorapulse
On the other hand, Agorapulse brings all your social media accounts under one presentable dashboard. This means that after you click on a social media account, you'll be managing only that account and you'll never mess things up.
Here's an example.
Let's say that you're using your Facebook page on Agorapulse. Everything you do from publishing a new post, replying to private messages, and looking at your page are for this Facebook page.
To schedule a post for another page or other social media account, click on it from the menu and create a new post for that page.
If you have trouble getting this, head over to Agorapulse, sign up for a free trial, and see it for yourself.
2. Account synchronisation
Account synchronisation is important if you find yourself using your social media management tool as the all-access pass to every social media account.
You'll want all your accounts to have the most up-to-date information so that you can reply to comments and enquiries as soon as you receive them.

On this point, Sprout Social does relatively poor because it only synchronises your account with all the information from your connected social media accounts when you login.
Did you know?
Hootsuite, the most popular social media management tool, also synchronises your social media feeds only when you log in.
Agorapulse wins this round for me because it synchronises with your social media accounts 24/7 and sends you notification e-mails whenever you receive a direct message or comment on one of your posts.
You will need to opt in to receive these e-mails, since they're turned off by default in case you don't want to see them.
Personally, I have found it useful for managing my clients' Facebook pages during office hours - this saves you from having to be on your social media management tool all the time!
I would have given Agorapulse 4 stars if that was all it did.
But there's more!
This tool also remembers where you last left off. So if you log in to Agorapulse only after a couple of days, you'll be able to find and start moderating from the last post you saw on the tool.
3. Publishing

There're plenty of specialised publishing tools that are phenomenal like Buffer and Postplanner, but Sprout Social's very own publishing tool is impressive too.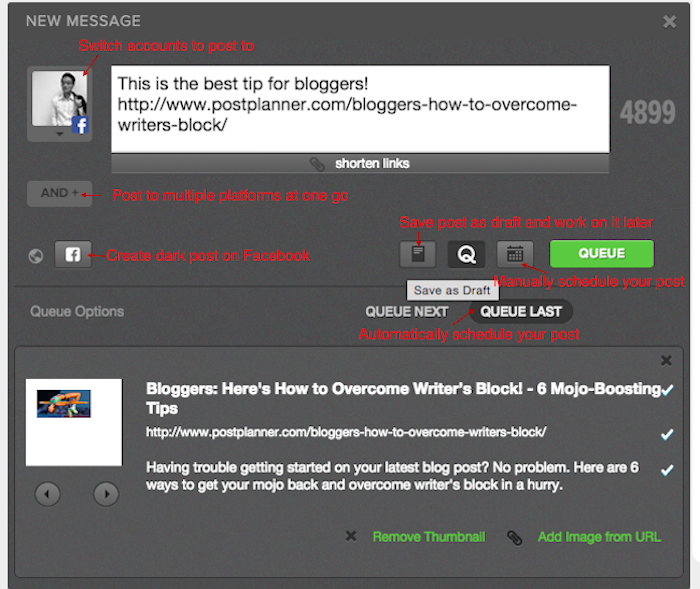 Here is a short summary of what you can do with Sprout Social's publishing tool:
Post to multiple social networks at one go
Post as dark post (Only for Facebook)
Easily switch between social networks to post to. (But beware of posting to the wrong account!)
Save a post as draft and work on it later
Automatically schedule your post using Sprout Queue and allow SproutSocial to determine the best time to post for you, like Hootsuite's auto schedule
Schedule your post
Because of all the additional functionalities Sprout Social has packed with its publishing feature, I have given it 5 stars.

Like Sprout, Agorapulse allows users to post to Facebook, Twitter, LinkedIn, and Google+. You can schedule your posts, add them to a queue, or send them right away.
What's special about Agorapulse's publishing is that you can easily customise your content for the style of each social channel.
See the #highered hashtag in the above example? It takes me just a few clicks to take it off for my Facebook post. And Agorapulse lets you see what the post will look like before you send it.
When you schedule a post on Facebook, you can also set a date and time for it to go out as well as basic targeting features like countries and languages.
And when you want to add tweets to a Twitter queue, you're able to add it multiple times through its "requeue" function.
In this example, the tweet will now go through 10 queue cycles. Simply set it and forget it!
4. CRM
One of the biggest promises of social media is the ability to connect with your customers, leads, and target audience at a 1-to-1 level.
Big businesses can do so by integrating sophisticated CRM technology or buy one of the premium packages off Salesforce and integrate the tool into their existing marketing systems.
But smaller businesses who can't afford to buy thousands of dollars a month for a CRM tool will have to rely on social media management softwares to do so.

Sprout Social lacks in this department.
They mentioned on their website that you'd be able to add personal information to contacts, but I found that you can only do so for Twitter users and not Facebook. This means that it's not possible for you to (1) standardise your workflow process across both platforms (you need to train your consultants/managers to always remember to add contact information on Twitter but not Facebook) (2) you cannot create a database with deeper information about your audience on Facebook.
Furthermore, there doesn't seem to be a way to find these users again if they don't engage with you after some time. I tried looking for a search function to find a user that has interacted with me some time ago but wasn't able to do so (correct me if I'm wrong).
To be fair however, it seems like Sprout Social wants you to use another tool like Zendesk, Salesforce, and UserVoice if you have a real CRM needs, since you can integrate these softwares with your Sprout Social account.
Also, what you can do however with Twitter users is pretty cool.

For example, you can see a user's Klout score, see if they are following you and whether you have followed them. You could also add users to your Twitter list directly.
In my opinion, this makes cross-platform management easy. If you ever want to bail on Sprout Social and manage your Twitter audiences, you can find these people again on your Twitter lists.

Agorapulse does relatively well in this department.
First, you can sort and rank users by:
Ambassadors (see definition below)

Facebook: mentioned you in a public post
Twitter: 

retweeted you or posted links from your website

Instagram: 

mentioned you within a monitored search by location or hashtag

Engaged users

Facebook: 

published a post to your page, commented on one of your posts, or sent you a private message

Twitter: mentioned you or sent you a direct message

Instagram: commented on one of your posts

Influencers (applicable only for Twitter)

Retweeted more than 20 times in the last 30 days

Likers (applicable only for  Instagram)

People who have liked your post
With these features, you can constantly check to see which users are the most engaged ones, based on different criteria. And like what you already know, engagement is an important social proof of brand interaction and it is valuable.
Apart from those automatic categorisation mentioned above, you can also manually tag users!
You can use these tags in several ways.
For me, I tag my top fans as "active", people who I've interacted with according to their profession like "social media manager", and influencers so that I can easily recall who they are if they appear in my list of top fans again.
(The "content provider" tag seen in the above example reminds me of people who gave me permission to repost their content.)
The most important feature perhaps is that you can also find a user you remember and refer back to your conversation thread. You can also search for the user by his name as well.
Basically, Agorapulse scores, ranks, and retains conversation histories for all users you've interacted with, whether it is on Facebook, Twitter, or Instagram.
There are two reasons why I haven't given Agorapulse 5 out of 5 stars though.
First, I would love to see the tool be able to tell me if a user is "valuable" to me by the keywords in his bio, posts, messages, and rank them by priority or predicted importance to me.
Second, I would also like see Agorapulse aggregate all the users I've interacted with across my social media accounts. For example, I can choose to combine all the users who have interacted with client A in a list, and allow me to see if they're socially connected on Facebook, Twitter, and other platforms.
5. Facebook apps
Facebook apps are not dead. They're still very handy if you include a Page in your Facebook marketing strategy.
These tools help you inject more life into your page.
An occasional product giveaway spices things up or a sequential contest can help you generate countless ideas for a product name, suggestions, collect feedback, and drive up brand engagement.
That's why I think although Facebook apps' value have greatly reduced over the past 2 years, they're still useful tools that a marketer can pick up to reach specific marketing or community objectives.
Sprout Social
Unfortunately, Sprout Social doesn't include app creation or support as part of its offering. So there will be no rating given for this.
Agorapulse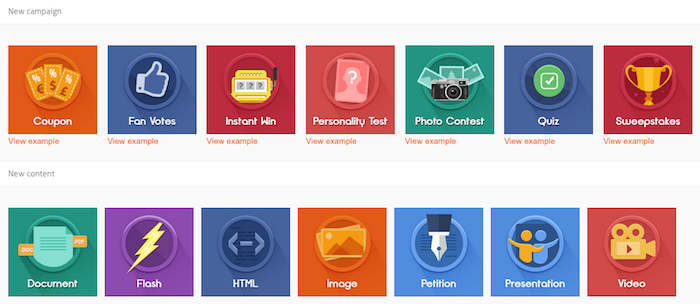 However, since Agorapulse first started as a Facebook apps-driven tool, they offer a basic yet comprehensive range of apps that allows you to run contests, promotions, giveaways, quizzes, and many more!
Any emails or leads you collect through these apps will also be qualified and collected within Agorapulse's CRM system. You can then tag and identify these users on Facebook - adding to the functionality of CRM.
6. Platform coverage
Platforms coverage is also one of the most important considerations for choosing a management tool.
Marketing consultants may find a use for both Agorapulse and Sprout Social.
Sprout Social

On one hand, Sprout Social works with Facebook, Twitter, Google+ pages, Linkedin, and Feedly.
Agorapulse
Agorapulse works with Facebook, Twitter, Instagram, LinkedIn and Google+.
If you work in a large agency, you may find that it is cost effective to use both platforms to tailor the solution to different clients' needs.
If yours is a boutique or a small agency, you can probably pick one and manage the other platforms natively.
If you work on the client side, then perhaps you can pick one of these two tools based on the platform coverage, keeping in mind its pros and cons that I have outlined above.
I haven't given a rating for this comparison because it really depends on your needs and it's hard to say whether Google+ and LinkedIn support would be better compared to Instagram and Pinterest.
7. X-factor
Having given both apps a try for some time, I was able to discover some neat features that aren't well-known.


I consider Sprout Social's ability to create and publish a post as dark post an X-factor. You can even queue the post!
On second thought however, it seems like a nice-to-have feature.
The primary purpose of dark posts is to create ads to test different copies or ads. These are posts that you'll want to promote to a specific group of people and you can't do it within Sprout Social. Since you're not able to buy ads on Sprout Social,
I can only imagine that you'll create a dark post and go to Facebook ads manager to promote the post. It is not an intuitive process in hindsight.
To be fair though, Sprout Social could have added this functionality for businesses who work with independent or separate ad buying agencies.
For example, Coca-Cola could work with a creative agency and an ad-buying agency. The creative agency could create the dark post and have the ad buying agency promote it.
It sounds pretty troublesome but it could very well be designed to adhere to the standard work process that is already in place between different businesses and agencies.

Agorapulse also has its own dark post functionality but it's different from what Sprout Social offers.
While Sprout Social offers the ability to create dark posts, Agorapulse allows you to manage them.
Frankly speaking, managing dark posts has always been a pain, even within Facebook. There isn't a place where you can find all of your unpublished posts in one place, track comments and interactions.
(They also offer comment monitoring for Instagram ads.)
8. Price
Finally, we're going to talk about price!
Price is a huge concern for many small and medium size businesses because they need to make sure that the return they get from using the tool justifies the fees they're paying for the it.
I won't be discussing how you can measure the return of using these tools but I'll be giving you a brief comparison of the prices.


Both Sprout Social and Agorapulse have quite straightforward pricing plans.
Sprout Social charges $59 per user per month for its cheapest package, $99 for the Premium package.
For $59 per month, you get to use the smart inbox, real-time monitoring tool, publishing, scheduling and drafting tool, create reports and manage up to 10 profiles.

On the other hand, for $49 per month, you will get to manage 2 Facebook pages with up to combined 50,000 fans, 2 Twitter accounts for up to 30,000 tweets a month.
This seems to pale in comparison to Sprout Social, but hey, I haven't mentioned that $49 per month is capped regardless how many people you have managing the social media account!
So if you manage Coca-Cola's page using Agorapulse, all of your team members on the client and agency side will have access for just $49 per month!
To provide you with a realistic comparison, let's assume that you run a small marketing agency of 4, managing 5 Facebook pages and 5 Twitter accounts. These are the fees you'll pay every month:
Sprout Social: $236
Agorapulse: $99
Of course, it really depends on how your agency works together. If you have one person working on one account at any time, Sprout Social could be the cheaper option.
So don't take my comparison at face value - you'll need to run these figures through your excel sheet to find the best solution!
Also, you'll want to do some basic sensitivity analysis because your agency may grow over the next few months and you'll want to work with a tool that can help you scale exactly the way you operate.
Conclusion
I hope all of you understand both Sprout Social and Agorapulse better now as social media management tools, how they differ, and what their unique selling points are.
More importantly, I want to make sure you sign up for the right tool to speed things up for your business!
There're many other awesome features that these two tools offer, but there weren't many major differences that I could talk about because both tools are great at what they do!
Some of these include:
Content calendar
Teamwork and assignment of tasks
Inbox zero (Helping you and your community managers moderate all the social media messages)
Reports
If you didn't find any of the 8 things I talked about an issue to you, then perhaps you'd be indifferent between these 2 tools. But if you think that I've missed out anything since I've only used both tools for the past few months, then please feel free to comment below and help our fellow business owners and social media managers!
Note: This post has been revised with factual information on June 23, 2016.