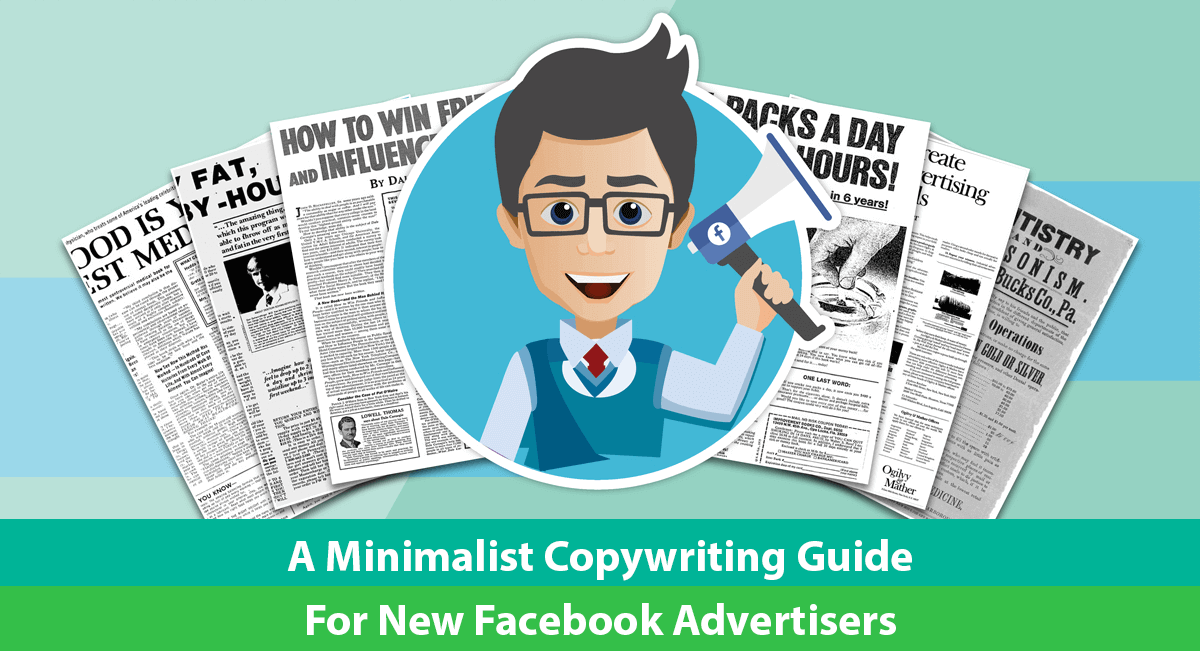 Dear advertisers,
I am no professional copywriter.
When I was in high school, I had such a bad command of the English language that my teachers had to give me remedial lessons.
5 years after doing Facebook ads, I still have not written any copies that have generated billions like Gary Halbert or David Ogilvy.
Yet despite my failures?
I was able to produce rather effective Facebook advertising copies.
(I'm not going to drop any fancy looking numbers here and I certainly don't want to pass off as a copywriting expert.)
I'm not entirely sure how I have been able to do this either. All I do is use a stupidly simple 4-step process to write my copies.
By sharing my process with you, I hope you can learn something new and get better at copywriting.
In this article, you will find out:
Is copywriting necessary to create successful Facebook Advertising campaigns?
Is copywriting all about writing copies?
The role that copywriting plays in a successful Facebook Advertising campaign.
The 4 steps I take to write effective copies (it's nothing to shout about, really).
My go-to copywriting resources.
Along the way, I will also make several (non-affiliated) references to some of my preferred copywriting resources. These resources may help you in your journey to become a better advertiser, just as they did for me.
So if you are ready, let's get started!
Is copywriting necessary to create successful Facebook Advertising campaigns?
The short answer…is yes.
Copywriting is not only necessary, but vital to create successful Facebook Advertising campaigns.
By "successful…campaigns". I'm referring to those that people claim to give them outsized returns, like $5-10+ on every dollar spent.
Think about copywriting as the bridge between where you are and an island opposite you.
If the bridge does not give you any information about the island opposite, would you cross? Maybe.
If the bridge tells you "DANGER AHEAD", would you cross? Unlikely, unless you are a thrill seeker.
If the bridge tells you "there are sightings of crocodiles and the 2 boys who crossed the bridge last week have yet to be found", would you still cross? No way in hell!
The above examples illustrate a key point of copywriting.
Every effective copy elicits a desired response.
In the examples above, the warning made you stay away from the bridge. And making sure you stay away is what the authorities probably want you to do.
Likewise on Facebook, you need good copywriting skills to elicit the responses you want.
So is copywriting all about writing copies?
Before you suddenly make mastering copywriting your life's goal, I want to make one thing clear:
Copywriting is more than just writing copies.
In fact, a professional copywriter once told me that writing copy takes up just 10% of his time.
The other 90% is spent on understanding the target market.
…which basically means doing marketing research.
And I don't mean just typing some queries into Google, reading a bunch of articles, and pretending to know the market inside out.
His idea of research is way more targeted. There are clear outcomes you need to achieve out of your research.
I'll share what these outcomes are later in this article, but let's talk about the role of copywriting in Facebook Advertising to get our newer readers here up to speed.
Warning:
If any "expert" tells you that to write good copies, you need to be a native English speaker or do it for a long time, this guy is talking nonsense. You can easily find a list of professional copywriters who aren't native English speakers and have not yet done it for a long time, but have each written millions of dollars worth in copies.
The role that copywriting plays in a successful Facebook Advertising campaign
In any form of paid advertising, you are always trying to make 2 things work together:
Sales funnel is just a fancy term to describe how you sell.
For example, most Facebook lead generation campaigns try to bring users to a squeeze page and get them to sign up for something. After that, they may receive an email with a sales pitch to buy something.
The entire process (or journey) which the customer goes through from Facebook to become a customer is called the sales funnel.
"Sales funnel is just a fancy term to describe how you sell."
If you don't have a sales funnel yet, your number one task is to build one.
Once you have mapped out your sales funnel, your work has just begun.
At this point, your sales funnel is at best unproven.
Maybe it'll work the first time. Maybe it won't.
Either way, the only way to find out is to send traffic through that sales funnel.
So back to the original question…what exactly is the role of copywriting?
Put simply, the role of copywriting is to sell.
Sell an idea. Sell a product. Sell to one person. Sell to many people.
Which means, copywriting plays important roles in both building your sales funnel and driving quality traffic through it.
Copywriting exists in the DNA of the entire sales funnel. Through the initial research, you will understand the market's competitive messages, the needs being served, and how to position your product and offer to make it uniquely attractive.
In its physical form, copywriting exists in your advertising campaigns (traffic), squeeze pages, confirmation pages, upsell pages, follow-up emails, and more.
If none of these makes sense to you, then just remember one thing: the role of copywriting is to sell and you cannot do without it if you want to make Facebook advertising campaigns work.
The 4 steps I take to write effective copies
If you are still reading this, I recommend you to set aside the next 15 minutes of uninterrupted time to go through this entire section.
You will see the 4 steps I take to write effective copies. And you'll best learn if you can put them to practice right after you finish reading, not 1 hour later or tomorrow.
If you are ready, let's get started!
In summary, here are the 4 steps I take (no. 2 is my personal twist):
Research.
Shower moments.
Writing.
Testing.
Step #1: Research
Earlier, I mentioned 2 things about research:
Research is 90% of the copywriting work.
There are clear outcomes you need to achieve by the end of the research.
So if copywriting is so important, what are the key outcomes you need to achieve?
Lukas Resheske, a professional copywriter whom I've worked with on 2 occasions, calls it the Big 4:
Demographic and psychographic information.
Primal fear, core needs and desires.
Market awareness.
Market sophistication.
Rather than trying to explain Lukas' framework in my own words (which will take another 2,000 words), I've embedded a Facebook Live call he did with Jos Aguiar below.

In the video above, Lukas explains each of the Big 4 and provides a few useful examples. This 62-minutes video is one of the few videos that I have sat through the entire time just listening and taking notes. It's also a lesson that I would have paid for just to attend.
If you can't view the video above, you can watch it here.
As you do your research, write down what you have learned about the market. You can do that on a piece of paper or a digital notebook. I use Evernote (non-affiliated link).
If you want to see what it looks like, here's a work-in-progress version of my own:
If this is your first time doing it, don't worry about getting it right or "completing" the whole thing. You can (and should) always come back to revisit your research as you spend more time learning and marketing to your target audience.
Jason's random thoughts:
When I work on a new client's copy, I usually set aside at least 6 hours/1 working day to read all about the market, customers, company, etc. In between, I take breaks to allow the ideas to settle in my brain. Usually I'll get 2-3 ideas of what to write about and I'll write them down. But I won't jump in to create an ad right away.
Step #2: Shower moments
The next step after research is usually writing drafts. I do it a little differently.
For me, I find that I'm most creative and full of ideas when I'm bathing. So after a whole day's hard work in reading, I'll take a bath and think about what I have just read.
After each bath, I usually get 1-2 ideas that I would fall in love with. I would write them down, elaborate as much as I can, put it aside and not think about it for the rest of the day.
These days, I also use my phone to record whatever I can remember once I leave the bathroom. I find that I capture ideas better if I can put them down somewhere as quickly as possible.
Of course, this step is entirely optional. But I thought I would share my experience with you anyway.
Step #3: Writing
It's finally time to write your copies.
There are several kinds of copies you may write, but for the sake of this article, I'll focus on just Facebook advertising copies.
When I write, I use this template:
In the first column, I'll think about potential angles which I can write.
Then I'll pick out specific phrases that people in the industry use. This can be the way customers describe their problem, the way salespeople on the ground describe their solution, and so on.
Then I'll think of ways to structure my copy – such as the Pain-Agitate-Solve formula. This disciplined approach helps me to easily create multiple variants that I can use for the next step – testing.
For a start, I would write about 5-10 different advertising copies.
If you are working with a new client, have them review your copies and edit them based on how they would say the same thing to their customers. If they ask why, tell them that you are new to the industry and you want to avoid sounding like an outsider. So you need their domain expertise combined with your copywriting skills to craft the best copy possible.
Warning:
Your clients may not like the idea of reviewing your copies. To avoid this awkward discussion, make sure you set the expectations early on. Before deciding to work together, be upfront with your client. Tell them that you're new to the industry (if you are) and you need their help to provide some of their domain knowledge early on. Over time, you can completely take this over when you are more familiar with the industry.
Step #4: Testing
What I hate most about some copywriters and marketing consultants is that they write a copy and they think it's done.
Far from it.
Even 50 years ago when advertising required high upfront expenses, the great copywriters tested their copies and never saw them as finished products.
Today where you can easily spend $5-10 and reach hundreds of people, you have no excuse to just write and forget.
Every copy can be improved. And it's dumb for you to keep throwing money at it without making it better.
I share more about my Facebook ad optimization process in our Facebook group. You can find out more here.
Note about the Facebook group
I manually review every person who wants to join the group. So far I've turned away 1 in 4 requests. If you post a lot of cat photos, political stuffs, have a totally irrelevant Facebook profile, or are in 300+ Facebook groups, I'm afraid that I'll have to turn you away.
My go-to copywriting resources
While I have been writing copies for over 5 years (relatively short compared to the many greats), I am still learning something new every day.
If you are looking for further resources after reading this article, here are my top 3 recommendations:
Breakthrough Advertising by Eugene Schwartz. Most, if not all, professional copywriters have read and recommend this book. From what I've heard, a new reprint is planned later this year. I would bookmark the page, borrow a copy from the library, or ask someone for help to grab a copy of this.
Copyhour.com by Derek Johanson. There are many outstanding copywriters today. Some of them are in the coaching and mentoring business, like Derek. What I like about Copyhour is its vibrant Facebook community and the Friday newsletter that Derek sends out weekly. One of Derek's recent newsletter helped me to write a copy which brought in Facebook leads at $1.08, in the highly competitive Facebook Advertising niche.
Copywriting Training Wheels by Colin Theriot. Colin is the founder of the largest copywriting Facebook group, Cult of Copy. Colin is a brutally honest guy. If you think I am brutally honest, wait till you've seen the stuff he writes about in the group. If you can handle the brutality, you can get an incredible amount of value from the stuff that Colin teaches. For beginners, you will find the Copywriting Training Wheels group far more beneficial than the Cult of Copy group, where copywriters discuss about advanced copywriting techniques.
These should be enough for you to write effective copies in the next few months.
Before I conclude, I would like to give you one last piece of advice: for every hour you spend learning about how to write better copies, spend 7 hours actually reading about your market and writing. Don't get caught in the never ending race of collecting copywriting swipes, formulae, and what not.
Concluding thoughts
So that's it! What you have just read above is my personal copywriting experience.
I am no professional copywriter, so I have made quite a number of references to those trustworthy resources that I have learned from. Hopefully these will help you produce more effective advertising copies.
Bonus!
Did you know that all Facebook advertisers go through 4 stages before they produce a successful campaign? If you're interested to find out what these 4 stages are, enter your email and we'll send a copy to your inbox.