I'm writing this as a follow-up to last week's article on what you need to do once you start running Facebook Ads. If you haven't read it, I recommend you to spend the next 5 to 7 minutes on it.
If you have done what I recommended you to in the last article, you can now focus on improving your ad campaign's performance.

If you are still using the default ad campaign manager to optimise your Facebook Ads, stop what you are doing.
By now, you should be using Facebook Ad Reports to manage the performance of your ad campaign.
Today, I'll go through the key steps in managing a Facebook Ad campaign and what you should look out for when managing Facebook Ads.
Before we get to that, you need to choose the proper column sets, metrics, and dimensions according to your Ad objective.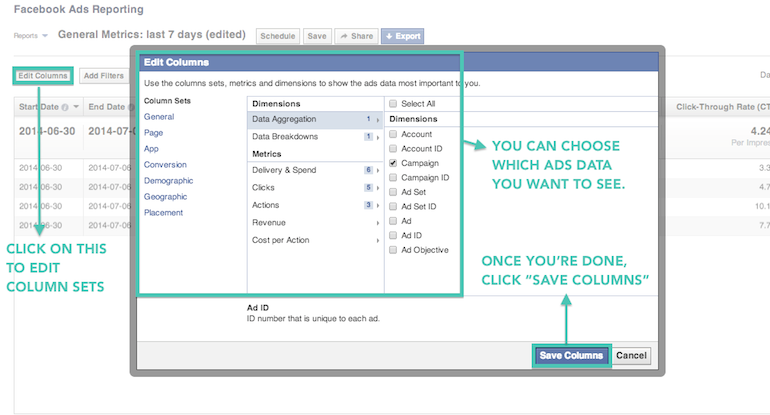 *Column sets refer to the data you want to generate from your Facebook Ad Report, as illustrated in the image above.
For the purpose of illustration, I will assume that you want to increase the number of Page Likes through Facebook Ads. Next, select these ad data:
Data Aggregation > Ad Set & Ad
Delivery & Spend > Reach, Frequency, Impressions, Cost per 1,000 people reached, Spend
Actions > Page likes
Cost per Action > Cost per page like
You will want to look at Ad Set and Ad-specific performance instead of Campaign because you want to re-allocate the budget from the less effective Ad Sets to the more effective one and cut the costly Ads.
Next, generate 3 Ad Reports, each differing only in terms of Data Breakdowns:
Age and Gender
Country
Placement
Why some ads don't run

The first thing to note is that you should only look at Ads that have statistically significant results. If an ad has been served less than a 1,000 times or to less than 1,000 people (depending on how strict you want to be), I would recommend you to ignore it in your optimisation process.
There are a few reasons why certain ads don't run, but as Alex Houg wrote here, it usually has more to do with a lack of budget.
Another possible reason is that the ad did not see early success in conversion.
In other words, when you buy Facebook Ads based on oCPM, Facebook tends to run the ad that succeeds in conversion more often than the less effective. To do so, Facebook serves most, if not all, of the ads to your target audience. Then, it will allocate your budget to the ad that sees early success. This explains why some of the ads get more of your budget than the rest.
Age and Gender: An illustration
Looking at just the ads served more than 1,000 times, I would look at the Cost per Page Like next.
My target Cost per Page Like is $0.10. This amount could differ for you, depending on how experienced you are running Page Like ads for similar target audiences.
You could figure this value through other ways - for example, working backwards using your Cost per Acquisition to estimate your maximum allowable Cost per Page Like.
Remember when I wrote that you should always check your ads against your intentions last week? This is what you need to do again.
By cutting the ads above, are you then eliminating certain age groups and gender from your ad targeting? If so, you can either allow those ads that target specific age groups and gender to continue running, or re-create new ads with new copies, creatives, or even entire concepts.
This is Ad Management and it's what you pay your consultant for, so make sure it is done properly.
Furthermore, you can also look at the total Ad Spend or Reach. Are you satisfied with the proportion of your budget spent on targeting certain age groups and gender? Are you satisfied with how much you are spending to reach females in the age group 25-34, for example?

This could be hard to see using the Ad Report, so go ahead and hit the Export button to analyse the data using Microsoft Excel.
Over to You
What did you find useful today? Do you use any other function in the report to improve your ad results? Do you have any other quick questions about Facebook Ads? Share with me in the comments below.
If you liked what you saw and you want to hire me to manage your Facebook Ad Campaigns, drop me an email at [email protected] I will take on this role only for 2 more clients.