A confirmation email has been sent to your inbox. To make sure you don't miss any of my future Facebook ads case studies, please click on the link in your inbox to confirm your subscription.
One of the best things about Facebook ads is that you can test different target audiences, images, and copies to see what converts really well.
You're also able to test many business assumptions, like the benefits that appeal to your customers.
But I discovered one major flaw in many Facebook advertisers' campaigns. And you could be one of them.
This major flaw makes the difference between a 30% VS 208% lower cost per conversion. Shocking.
And it has to do with how Facebook advertisers like you are actually testing your ad copies.
Before I share with you what it is, let me ask you one question.
How do you test Facebook ad copies?
Do you just write a list of different copies and throw all of them into Facebook to see what sticks?
Or do you simply create a new one whenever the existing ad gets less effective?
You might not be aware of this, but did you know that when you're testing Facebook ad copies, most of the time, you're actually doing a multivariate test?
What is a multivariate test?
Basically, a test is multivariate if you test more than one thing at a time.
So why are you doing a multivariate test when you test Facebook ad copies?
Here's why. When testing different copies, you're usually testing at least 2 things:
Your key message, value proposition, or the benefit that appeals to your customer
The way in which the key message is delivered
Let's take these 2 ad copies for a Macbook as an example.
Light. Years ahead.
The most user-friendly laptop you can ever own.
The first copy is concise and holds a dual meaning. You may see the value propositions uniquely captured as "light" and "years ahead", or as "light years ahead". Either way, it is a clever play on words and leaves the reader in awe.
In the second copy, it's direct and simple.
But when you compare the two copies, they're different in more than one way.
Not only are the key value propositions different, the key value propositions are also communicated in a different way.
Why is this bad?
Well, let's say that both Ads do poorly, which isn't uncommon.
What do you do?
You may start thinking that perhaps you got the wrong value proposition. Then you crack your head again to test another copy. Again, it doesn't work.
The problem with this approach is that you can go on and on without actually finding out what's wrong.
You'll not know exactly what went right with the first copy. Did you get the value proposition wrong? Or did you communicate it in the wrong way?
The same applies to the second copy.
That's why we need a more systematic way of testing ad copies. Think of it like a guaranteed way to find the right ad copy that works while spending as little money as possible.
The $1,700 ad experiment
To see if I was right, I basically created 2 campaigns for the same product.
The first campaign consisted of 3 different copies. Each copy had a different value proposition and a different way of communicating the value proposition.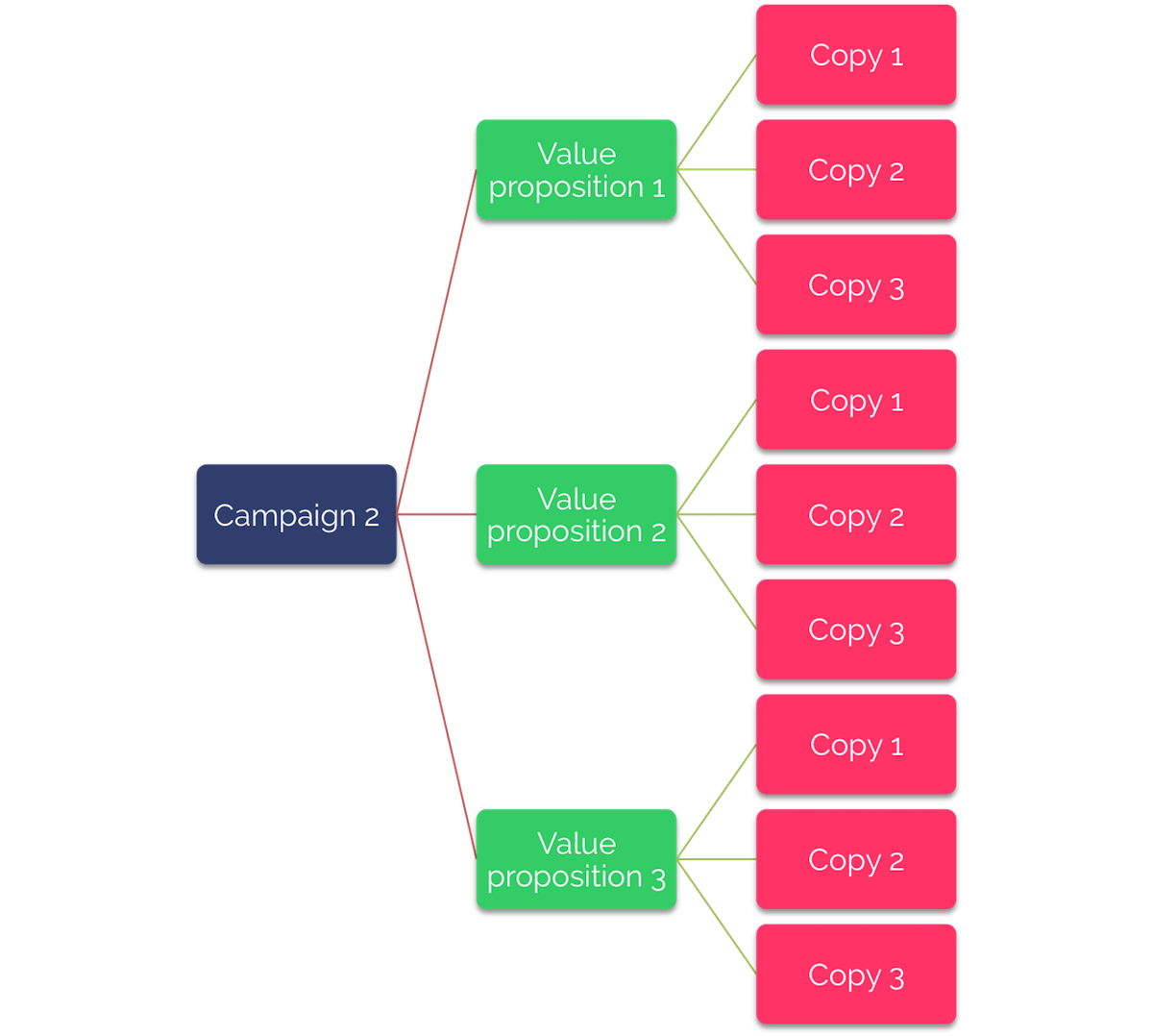 The second campaign consisted of 9 different copies. These 9 copies fell under 3 different value propositions. Each value proposition was communicated and written in 3 different ways.
The results
Here are the results after spending $1,765.93:
Campaign 1
Copy 1: $4.32 per lead
Copy 2: $1.23 per lead
Copy 3: $1.11 per lead
Campaign 2
Value Proposition (VP) 1: $3.65 per lead on average
VP 2: $1.23 per lead on average
VP 3: $1.15 per lead on average
Just to be clear, both campaigns tested the same value propositions. So [Campaign 1 - Copy 1] has the same value proposition as [Campaign 2 - VP 1].
The only difference is that in campaign 2, I created 2 additional Ads to test the way you deliver the value proposition.
Although Copy 3 in Campaign 1 generated the cheapest cost per lead of $1.11, VP3 was not far off at $1.15 per lead. Plus, it helped me to test 3 different ways to communicate the value proposition.
In fact, the most effective copy in VP 3 achieved the cheapest cost per lead of $1 and drove sales amounting to $1,590, effectively covering 90% of the costs incurred in this experiment.
As you can see, not only did the method I used in Campaign 2 helped me systematically find out what value proposition would appeal to my customers, it also helped me to find out the best way to communicate that appeal to attract paying customers.
Within the short duration of 7 days, I am able to allocate the rest of my ad budget to the most effective ad.
Your turn to act
If you're convinced, implementing the method I just shared with you is easy.
The next time you want to test Facebook ad copies, do this step by step:
Think of 3 different messages or what I call "value propositions"
Think of 3 ways to communicate each value proposition
Make sure you name each ad systematically so you can track your results. Here's what I recommend:

Message 1 - Copy 1
Message 1 - Copy 2
Message 1 - Copy 3
Message 2 - Copy 1
…and so on
And you're ready to go! You'll kill it with this.
Have trouble applying this lesson? Shoot me an email at
[email protected]
with the header "I need your help to craft an ad message" and I'll give you a hand.
If you're happy with what I just taught you, stay tuned because I have a lot more to share with you! Go to your email inbox to confirm your subscription if you haven't already done so.